Historic villas in Massa Carrara
In the northwest tip of Tuscany, between the sea and the high mountains there are the beautiful historic villas of Massa Carrara.

Massa and Carrara are two different municipalities that belong to the same province giving it their names: Massa Carrara. The territory of the province of Massa Carrara is located on the border between Tuscany and Liguria. It was therefore an important area to enable the inhabitants from the Tuscan territories to reach the north west. On one side we have the Tuscan coast, while on the other there are the high mountains especially famous for the production of precious Carrara marble. In this area of ​​Tuscany there are mansions, palaces and historic villas of great value.

Among the villas of Massa Carrara we mention first the Villa Malaspina. The villa creates a perfect balance between the architectural styles of Tuscan villas and the architectural styles of the villas in Liguria, since it is situated in Lunigiana on the border between the two regions. The villa was built in 1720 by the Marquis Carlo Agostino Malaspina. Also built at the beginning of the eighteenth century, there is Villa Rinchiostra in the municipality of Massa erected and beautified by the Duchess Pamphili and her husband Charles II Cybo Malaspina. Especially beautiful the garden of the villa. The villa is open to the public and therefore deserves to be visited.



From the XIX century Villa Schiff-Giorgini in the municipality of Carrara in the town of Montignoso. The villa is also open to the public and surprises visitors with its white marble and its artistic works. The park is large and well kept. The house originally belonged to the family Giorgini who hosted illustrious Italians and foreigners. At the beginning of 1900 Giorgini Matilda married the German Robert Schiff and decided to come and live in the villa instead of just using it for holidays.

For more details about the historic mansions of Massa Carrara, read the next few pages.
A selection of our most requested villas in the area:
Holiday villa (accommodation for 7/9 people) between the Apuane Alps and the coast of Versilia, 5 km from the sea of Viareggio. Air conditioning, garden, barbecue, TV.
More details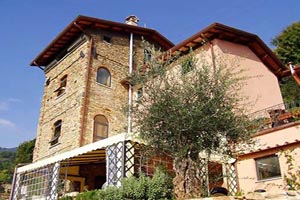 Luxury villa with private swimming pool near Massa, a few kilometres from the Versilia seaside resorts. 12 beds, sauna, Jacuzzi, satellite TV, Internet connection, wonderful panorama.
More details