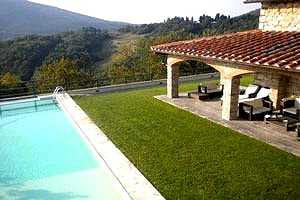 Villa with pool in Calenzano, between Prato and Florence. Sleeps 8+2, garden, Internet connection, air conditioning, children`s toys.
7 days: min: 2600 € - max: 3700 €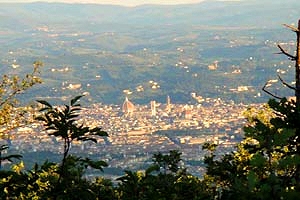 Ancient 13th-century farmhouse situated in the Natural Park of Monte Morello. Built between 1015 and 1272, it was part of a farm belonging to the Reverend Nuns of San Salvi. The park of the villa covers a surface 80,000 square metres and includes one of the most ancient water springs in the Florentine hills. Sleeps 11+2, panoramic swimming pool, hydromassage, Internet connection, table-tennis table. Tennis club, riding stable and golf club nearby. The villa is just a few kilometres from Florence historic centre.
7 days: min: 4265 € - max: 5200 €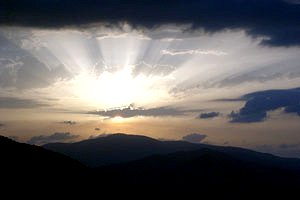 Ancient farmhouse at the intersection of Mugello, Casentino and Valdisieve, in Londa, in the province of Florence. 10/14 sleeping accommodations, swimming pool, TV, Internet, cooking classes, trekking, mountain bike rental. Riding stable and golf club in the neighbourhood. Apartment accessible to handicapped people.
7 days: min: 2500 € - max: 5000 €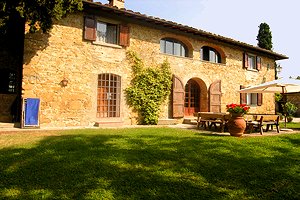 Villa with pool in Borgo San Lorenzo, in the Mugello region, near Florence. Sleeps 14/18, wide garden, hydromassage, sauna, Internet connection. Golf club, riding stable and tennis club within a few kilometres.
7 days: min: 2800 € - max: 5150 €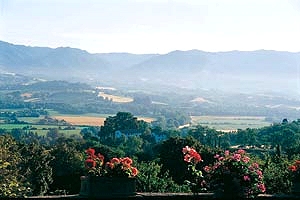 Large 16th-century villa in panoramic location in the mountains of Mugello, a few dozen kilometres north of Florence. Sleeps 15, swimming pool, outdoor whirlpool bathtub, children's swimming pool, Internet connection. Possibility of organising motorbike excursions in the Tuscan-Emilian Apennines, visits to the circuit of Mugello, mountain-bike excursions, food-and-wine tours. Golf club within a few kilometres.
7 days: min: 2555 € - max: 4255 €